Understanding the ANSI A92 Standards for Mobile Elevating Work Platforms
Understanding the ANSI A92 Standards for Mobile Elevating Work Platforms
A wide variety of construction jobs involve working from heights, which may require the use of mobile elevating work platforms (MEWPs), such as boom lifts and scissor lifts. Formerly known as aerial work platforms, MEWPs lift workers, tools and supplies to the necessary heights for the completion of many different types of overhead jobs.
MEWPs are covered by standards from the American National Standards Institute (ANSI). ANSI is responsible for developing standards for products, services, processes, systems and personnel in the U.S. and strives to create the most effective and safe standards for operations. ANSI released an update to the aerial work platform standard, ANSI A92, that went into effect June 1, 2020.
Since the updated standard took effect, aerial lifts are now officially referred to as mobile elevating work platforms or MEWPs. The changes to the standard affect MEWP training, safe use and new equipment design, and they are intended to reduce accidents and improve safety and operation of MEWPs. The updates also allow for a more global standard for the MEWP industry.
Before renting your next MEWP, you should be aware of some changes to the standards in these certain areas:
Familiarization and training.

Through the new familiarization requirement, dealers and rental companies must offer familiarization and training to customers who request it. This encompasses understanding the rules, regulations and standards that apply to MEWPs; the potential hazards associated with their use; and the new MEWP safety features such as tilt sensors and load sensors.
Also, a written site-specific and equipment-specific rescue plan is required. While this has always been needed, until the ANSI A92 guidelines had been updated, it had not been specified in ANSI. So, for instance, you'll need to write down how an operator will be rescued if they are stuck in an elevated boom that stops functioning.
ARA created the MEWP Train-the-Trainer and MEWP Operator Training so you can satisfy OSHA requirements and the new ANSI A92 standards. Learn more about the training
here
.
Load sensing.

With the new standards, MEWPs will be manufactured with load cells built into the platforms that monitor the weight and prevent the machine from operating if overloaded. Sensors that sound a visual or audible alarm will go off when the platform exceeds the safe load limit. Booms will remain inside the proper load envelope and range of motion based on the weight in the platform.
If your machine is overloaded, take some weight out of the platform before continuing. Be aware that old machines are grandfathered in and do not need to be upgraded to meet the new requirements. Regardless of the machine you are using, it is important to not overload the platform.
Wind force requirements.

Under new wind force requirements, certain new MEWPs are rated for outdoor use and may require reduced platform capacities and/or be equipped with heavier counterweights to meet standards. Newer MEWPs of the same model may weigh more than their predecessors. Ensure jobsite surfaces and hauling equipment can handle the machine's weight before using.
In addition, if the new MEWPs are rated for outdoor use, they will require wind stability testing and identification. Operators must choose "wind" or "no wind" depending on their potential exposure to wind. An ID plate on the machine indicates a wind rating, and wind exposure may restrict occupants and height of the equipment. Maximum wind speed if the MEWP is rated for wind is 28 mph.
Tilt-sensing and out-of-level requirements.

This tilt sensor safety feature will automatically trigger an alarm and prevent movement of the chassis or work platform when a certain level of slope is exceeded. The degree to which equipment must be out of level varies by make and model of the machine.
Entrance gates.

When using a new MEWP, you may notice half-height, full-height or saloon-style gates, complete with toe guards, to get onto the platform. This is to ensure safety when using the machine. Chain entrances and flexible gates are not acceptable on newly manufactured MEWPs but are acceptable on older machines.
Guardrail height changes.

The updated standard requires a guardrail height of 43.5 inches compared to the previous 39.5 inches. Be aware of the raised railing height on select new models when renting your MEWP. Due to the change to the increased railing height, the older scissor lifts with shorter railing heights can fit through doors without folding the railing. With the new higher-railing-height units, you will have to fold the railings to pass through a normal doorway. To maneuver through these doorways with the raised height railings, ask your rental store how to fold the railings before working on your next project.
Tires.

The option of air-filled tires will be limited as most newly manufactured rough terrain equipment is now available with only solid body and/or foam-filled tires for added stability. Keep this in mind when planning for work that has soft ground or gravel. If air-filled tires are used, the lift must stay stable if a tire goes flat.
While original equipment manufacturers (OEMs) are currently implementing design changes to MEWPs based on the new ANSI standards, these updates do not require rental companies to make an urgent investment in new equipment. Integration of new MEWPs into most rental fleets will likely take 8 to 10 years since the changes are not retroactive. But it's still a good idea for equipment rental users to be aware of the new standards.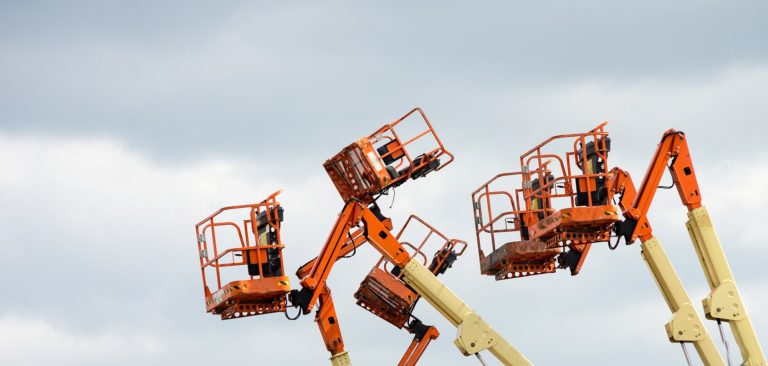 Your local, ARA-affiliated rental store professionals can help you understand these new standards through information and
training
, as well as connect you with available rental products to meet your MEWP rental needs. To locate the rental store nearest you, use the Rental Store Quick Locator above.
Related articles:
What to Look for in a Rental Trencher
Selecting a Generator to Rent